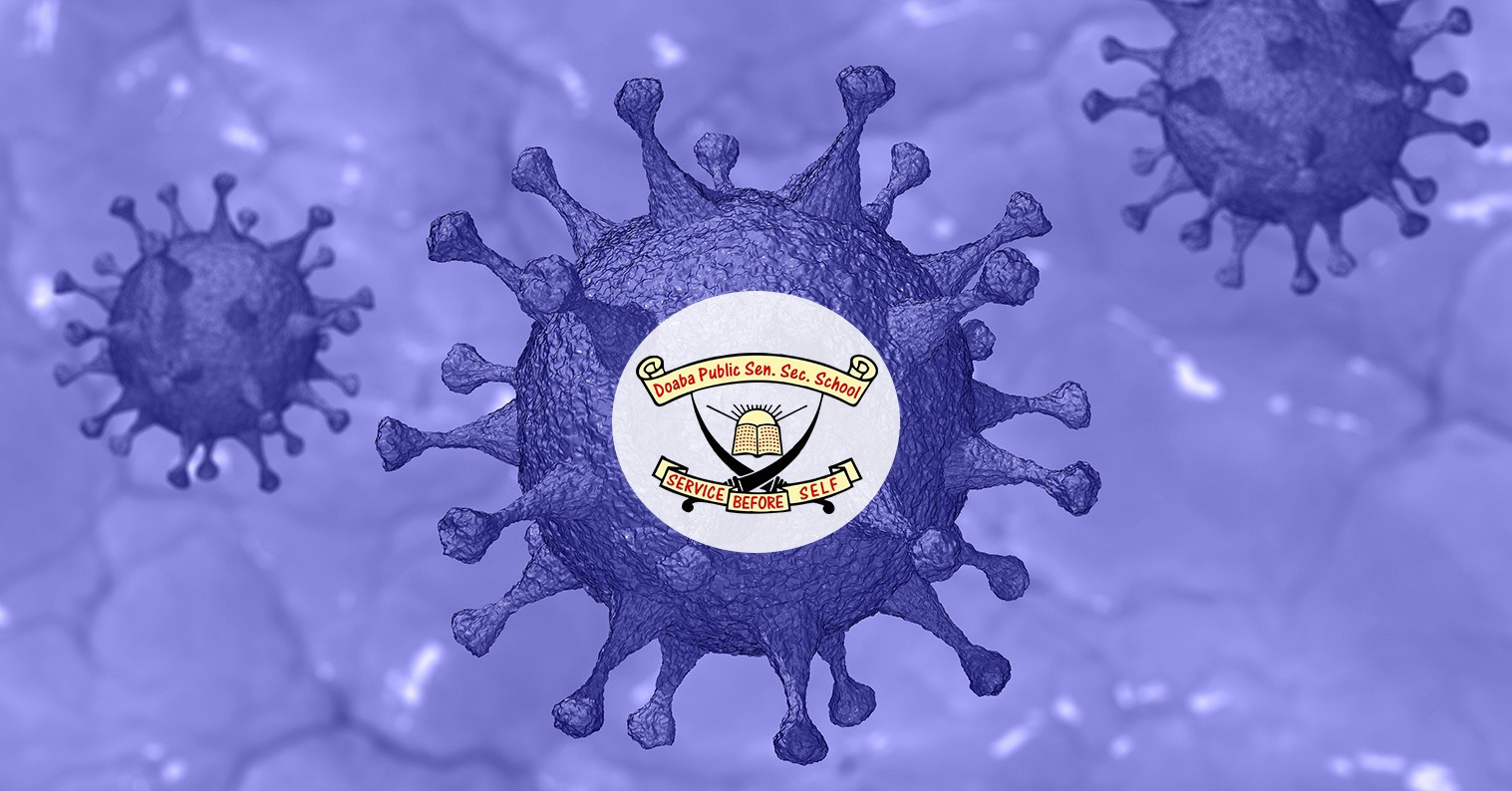 06 May

Everything you need to know to safeguard yourself from COVID-19

Reading Time:

11

minutes

11

Coronaviruses are a large family of viruses that are most likely to infect animals and humans. Specifically, in humans, they can cause acute respiratory problems. COVID-19 is the disease caused by the SARS-CoV-2 virus, which is responsible for the worldwide pandemic.

The outbreak from this virus started in Wuhan, China, in December 2019. This pandemic is accelerating day-by-day. COVID-19 disease spreads from person-to-person via contact. Those are:-
By direct contact, i.e touching someone who is infected by the virus.
By breathing in, the droplets from cough or sneeze of the infected person.
By touching the surface, on which the droplets of the virus are fallen, from an infected person then touching your nose and eyes with those hands.
Doaba Public Sen. Sec. School Parowal, one of the best Schools in District Hoshiarpur, wants all the students to remain fully informed about the situation, be aware of the following symptoms of this virus, and follow the necessary precautions as stated by the government and WHO.
The Symptoms of this virus are:
Cold, cough, mild fever during the initial days.
At later stages, it can show symptoms like tiredness, nasal congestion, runny nose, sore throat.
It can even cause breathing issues and pneumonia.
There are chances that you may have caught the infection, but your body is not showing symptoms during the initial days. So do get yourself medically examined if you have travelled back from an infected place. Old aged people and the ones who have medical conditions like diabetes, asthma, and heart problems are at higher risk.
The precautions, that are recommended to everyone are:
Don't go out of your homes. Only leave your home, to buy daily life essentials or medicines.
Avoid touching surfaces unnecessarily.
Wash your hands with soap or use an alcohol-based sanitizer.
Cover your mouth and nose while coughing or sneezing.
Avoid touching your face, mouth, and eyes.
Maintain social distancing.
Wear a mask if you are feeling sick or taking care of a sick person.
Clean your home with disinfectants.
Do take care of an old person (if any) in your family.
Doaba Public Sen. Sec. School Parowal, the best school in Parowal, recommends everyone to fully support the government in this curfew/lockdown. Nothing is more important than the lives of people, and you can save many lives by just staying at home. Don't fall for any false information, and only refer to the WHO official website.
Source: www.who.int