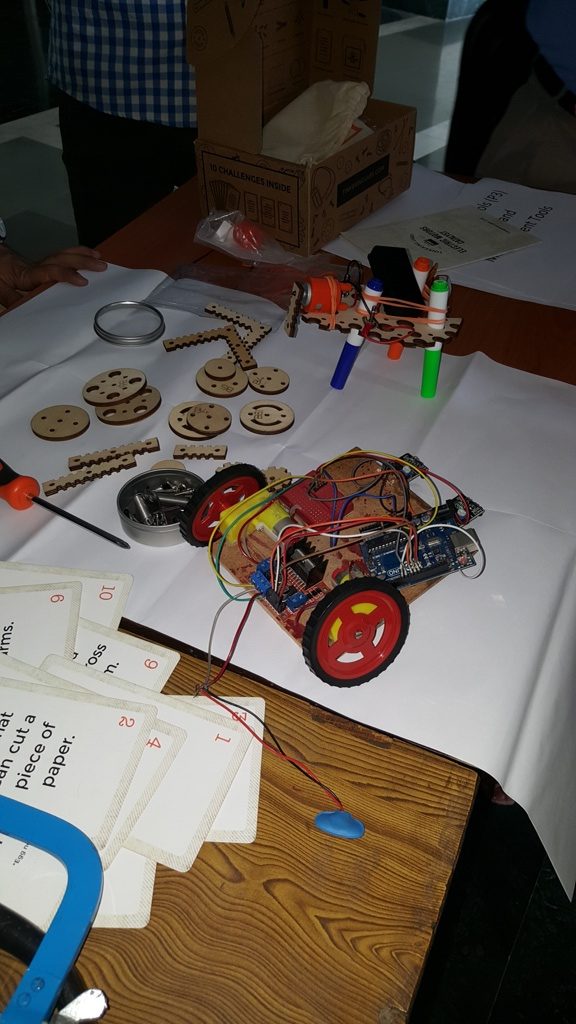 09 Aug

ATAL TINKERING LABORATORIES (ATL)

Reading Time:

19

minutes

Tinkering Laboratories are being setup by Government of India, The National Institution for Transforming India, NITI AAYOG,(http://www.niti.gov.in) under Atal Innovation Mission – (AIM) and are called 'Atal Tinkering Laboratories'.

Doaba Public Sen. Sec. School, Parowal participated along with 13000 schools all over India. Our school is one amongst 457 schools who qualified and got approved by the Government of India for setting up of ATL laboratories. Our students under the supervision of their science and maths teachers made a working model on "WORKING OF A TOY FAN USING DC MOTOR". Two teachers along with students went to Chandigarh for the demonstration and presentation of their model. All their efforts were paid off as their model was selected by the jury.

OBJECTIVE OF SETTING UP ATL

1. The objective of this scheme is to foster curiosity, creativity and imagination in young minds and inculcate skills such as design mind-set, computational thinking, adaptive learning, physical computing etc.
2. Young children will get a chance to work with tools and equipment to understand what, how and why aspects of STEM (Science, Technology, Engineering and Math).
3. The role of Atal Innovation Mission (AIM) is to promote a culture of innovation and entrepreneurship in India and has therefore, has decided to establish a network of tinkering laboratories and provide the grant-in-aid for the same.

BACKGROUND OF ATL UNDER AIM

The Government of India has setup the Atal Innovation Mission (AIM) at NITI Aayog. Realising the need to create scientific temper and cultivate the spirit of curiosity and innovation among young minds, AIM proposes to support establishment of a network of Atal Tinkering Laboratories (ATL). ATL is a work space where young minds can give shape to their ideas through hands on do-it-yourself mode and learn innovation skills. The vision is to Cultivate 1 Million children in India as Neoteric1 Innovators".

THE SCHEME AND ACTIVITIES

1. ATL is established in schools (Grade VI – XII) managed by Government, local body or private trusts/society. Operation of the ATL would be monitored on a suitable periodic basis by an advisory body comprising of following suggested members:
a) Principal of the school – Chairman
b) Faculty in-charge of the ATL – Convenor
c) Representative from local industry / local community /young innovators / reputed academia / alumni – Three Members.

2. In order to foster inventiveness among students, the following activities could be conducted by ATL:
a) Monthly programs to teach and explain students about different concepts – ranging from ideation, design, proto-typing, networking to physical computing.
b) Periodic regional and national level competitions.
c) Periodic exhibitions / fairs / carnivals.
d) Workshops on problem solving, designing and fabrication of products.
e) Interactions with relevant stakeholders including industry, academia and students from other schools and colleges and universities.
f) Screening of films and organising popular STEM and entrepreneurship talks by reputed speakers.
g) Summer and winter camps.
EXPERIMENT NO. 1
AIM: To illustrate the working of a toy fan using DC motor.
RESULT: The experiment illustrates the working of the toy fan by DC current.
Class: All sections of VI, VII, VIII and IX
QUIZ COMPETITION – HELD ON 20 MAY 2017
A quiz competition for students of class IX and X based on science, Technology, Engineering and Mathematics(STEM) under ATAL TINKERING LABORATORIES an initiative under NITI AAYOG was held on 20 May 2017 at Doaba Public Sen. Sec. School, Parowal.
It was an effort to make students aware of the said initiative and help them learn the importance of innovation in technology. This quiz competition is one of our initiative towards fostering innovations and creativity not only amongst our students, but also students of other schools in our area. We sent invitations to over 60 schools in the area to participate in the quiz competition.
RESULT OF QUIZ COMPETITION
i) First Position : Doaba Public Sen. Sec. School, Parowal
ii) Second Position : GEMS Cambridge School, Hoshiarpur
ii) Third Position: Army Public School, Unchi Bassi.
The overall event enhanced the knowledge of the students and hence was successful.
EXPERIMENT NO. 2 HELD ON 09-08-2017
This experiment was done to show the production of electricity using the process of Electromagnetic Induction with the help of coils.