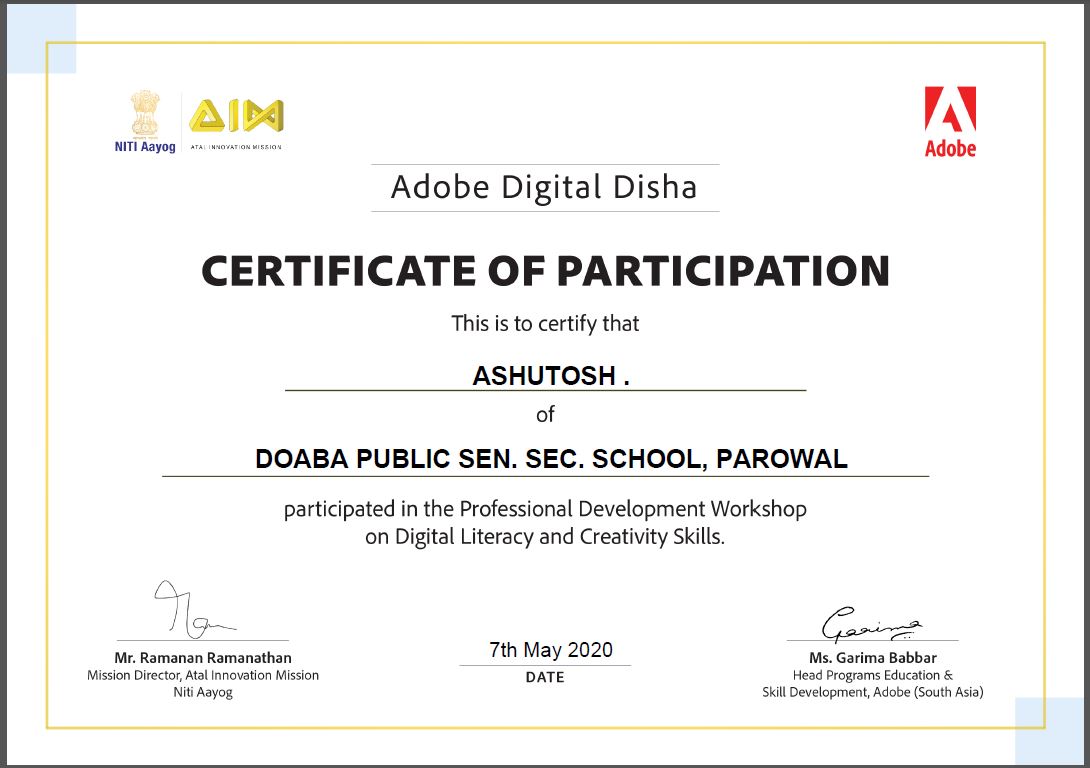 31 Aug

'Adobe Digital Disha' Webinar

Reading Time:

11

minutes

In these difficult times for everyone especially teachers and students who are adapting to new ways of studying and teaching, the biggest challenge faced by them is to create content/lesson plans/projects and to submit homework and assignments in a precise document.

The benefits of using this app are:

The application is dedicated to detecting borders, that automatically captures, removes shadows, and creates a PDF 'without any watermark'.

This app also has a 'Cleanup tool' that allows you to remove any marks, scribble, or smudges on the paper with the background color of the document.

Adobe scan unlike other apps offers you the ability to save all your scanned PDFs in a secure Abode Document Cloud with 2GB free storage, accessible to you from everywhere even on the desktop. Also, if you are scanning any document that has printed text, Adobe Scan can recognize the text for free and lets you copy and search for it further.

'App Development Module'

Atal Innovation Mission, NITI Aayog, brings us with yet another unique opportunity to learn Mobile App Development and Coding. AIM has launched a campaign #TinkerfromHome to enable ATL students and teachers to learn the 21st Century skills and technology. Under the aegis of #TinkerfromHome, AIM is collaborating with Plezmo to enable ATL school teachers to become masters of Mobile App Development, where our school teachers attended a series of webinars and activities for over 3 weeks conducted by reputed mentors from the Plezmo industry.

Few features of this application:
1. The experts lend you personalized mentoring and support.
2. You can train students(in online and in-class formats) on Technology and Mobile App Development skills.
3. You can develop and showcase your personalized Apps.

#TinkerfromHome

Atal Innovation Mission, NITI Aayog in collaboration with IBM and SRF Foundation is organizing a month-long intensive Online Workshop under "ATL Tinker from Home"

In these difficult times of COVID-19 when everyone is now bounded to their homes, AIM is trying to develop skills of the future through intensive online Training on "ATL Tinker from Home''. Our teachers were trained with the latest technologies like 3D printing, IoT, Arduino, Raspberry pi, SCRATCH programming, animation, and 21st-century skills like critical thinking & design thinking.

This participation certificate itself is a token of appreciation and a genuine acknowledgment that will boost the morale of Ashutosh.